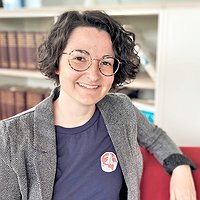 Lina Rodenhausen
Research Associate
Areas of Research
Digital religion, Digital Humanities, discourse on religion
Winter Term 23/24
Polarization in contemporary Christianity
Working methods of religious studies
August 2023: "We Are All Children of God, the Father (or Mother?!) – Parent-Child Metaphors about God and Believers in Christian Subreddits", talk at the conference of the International Society for Media, Religion, and Culture (ISMRC), Ruhr-Universität Bochum.

September 2022: "Capturing the Thread Structure: A Modification of CMC-Core to Account for Characteristics of Online Forums", talk at the Text Encoding Initiative (TEI) conference, University Newcastle, UK. Together with Sebastian Reimann.

May 2022: "'Team Free Will': Analyseebenen möglicher Religionsbezüge in Supernatural", talk at the international symposium of the Inklings Gesellschaft, Ruhr-Universität Bochum.