Assist. Prof. Juan Manuel Tebes is no longer a member of CERES. The information given on this page may therefore be outdated.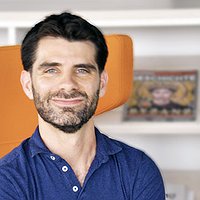 Assist. Prof. Juan Manuel Tebes
KHK Visiting Research Fellow 2018
Assistant Professor, Facultad de Filosofía y Letras, Universidad de Buenos Aires
Juan Manuel Tebes started his study in history in 1995 and gained his Ph.D. with Dissertation titled Tribus, Estados, cobre e incienso: El Negev y Edom durante la Edad del Hierro in 2010. Currently Juan Manuel Tebes works as Assistant Professor in Facultad de Filosofía y Letras at Universidad de Buenos Aires (UBA), as Assistant Researcher at Consejo Nacional de Investigaciones Científicas y Técnicas (CONICET, National Research Council), and as Researcher at Centro de Estudios de Historia del Antiguo Oriente (CEHAO). He is also Co-Editor of the Ancient Near East Monograph Series (Society of Biblical Literature & CEHAO), and Editor-in-Chief of the peer reviewed journal Antiguo Oriente.
During the years, Juan Manuel Tebes has also been doing research as Fellow at W.F. Albright Institute of Archaeological Research (Jerusalem), American Center of Oriental Research (Amman, Jordan), CONICET, Institute for the Study of the Ancient World (New York University), Maison de l'Archéologie et de l'Ethnologie - ArScAn (Université de Paris Ouest Nanterre La Défense), and Centre for Classical and Near Eastern Studies of Australia (University of Sydney).
His main research interests are history and archaeology of the southern Levant and the Arabian Peninsula during the Late Bronze and Iron Ages. His most current research project "The Desert Origins of God: Experience and Materiality of Desert Cult in the Southern Levant and Northern Arabia" uses an interdisciplinary methodology to investigate the history of ritual activities in the arid zones of the southern Levant and northern Arabia in pre-Classical and Classical Antiquity.
Education
Ph.D., History, Universidad de Buenos Aires, 2010
M.A., History, The Pennsylvania State University, 2009
B.A.2, High-School and College Professor in History, Universidad de Buenos Aires, 2001
B.A.1, Licentiate in History, Universidad de Buenos Aires, 2001
KHK Fellowship
Duration: May - August 2018
Project: The Desert Origins of God: Experience and Materiality of Desert Cult in the Southern Levant and Northern Arabia