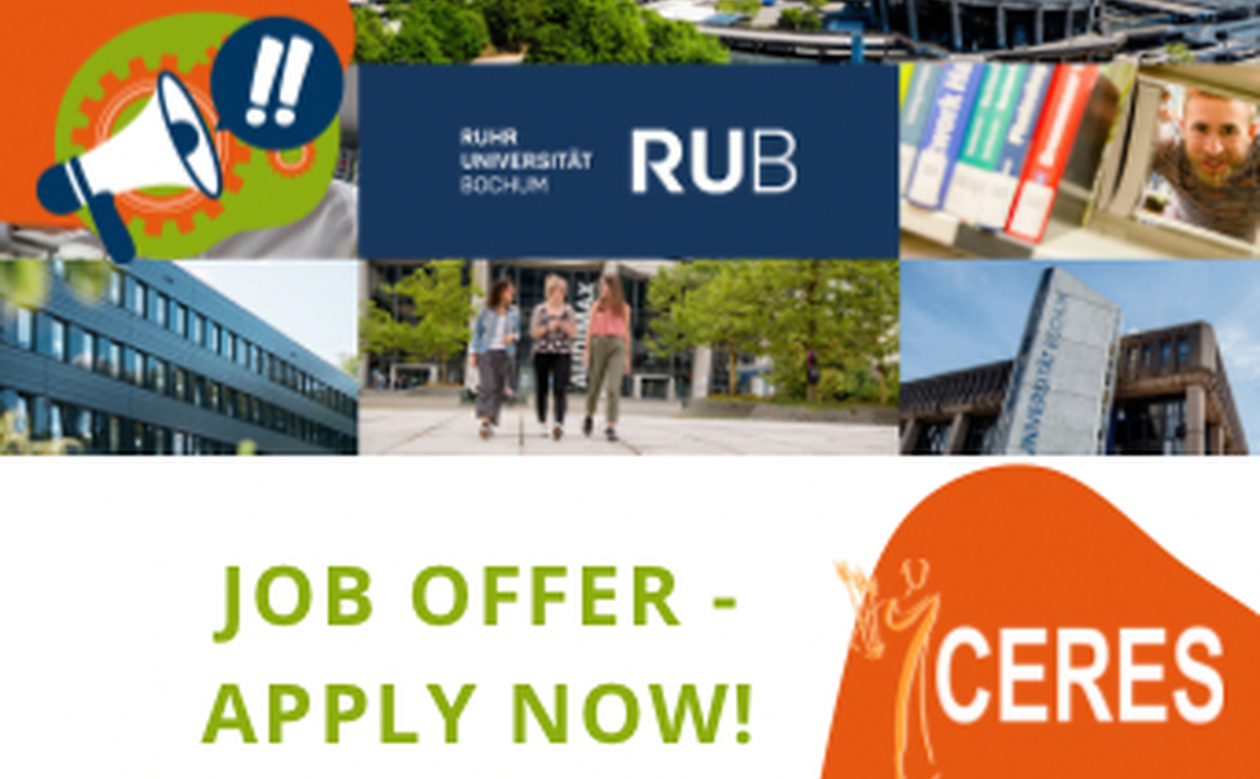 Job offer: student assistant or research assistant (m/f/d) wanted on a part-time basis!
For the UNIC project "Dignified Spaces in Post-Industrial Cities: On the In/Visibility of Religious and Cultural Minorities in Diverse European Cities" (DiSCO), CERES is looking for a part-time (up to 8.5 hrs/wk) student or research assistant (m/f/d) starting 1st of May 2023.
In a team of scholars from universities in Cork, Istanbul, Rotterdam and Bochum, this project will conduct a pilot study on the question of "dignified space" for cultural and religious minorities and migrant groups. Based on this study, we intend to apply for further funding.
---
The Center for Religious Studies (CERES) is a central scientific institution of the Ruhr-Universität. It initiates and coordinates religion-related activities in the areas of research, teaching, promotion of young scholars and knowledge transfer.
---
Your tasks:
Supporting literature research (in the library and online, inter-library loan, scanning, editing pdfs (incl. ocr), saving documents on Sciebo)
Supporting the team, e.g. in finding dates for meetings, administering zoom-sessions
Contacting and communicating with partners in Bochum and in the other cities (our partners are actors in the municipalities and religious communities)
Supporting the preparation and organisation of an international workshop (e.g. concerning catering)
---
Your qualifications:
Very good command of English and German
Experience with Sciebo and Citavi (or another literature software)
Experience with doodle and similar programs; especially Zoom
Very good command of MS-Office applications (such as MS Office Word)
Interest to work in an international team
Experiences regarding fieldwork and contacting informants are welcome
flexibility, reliability, ability to work in teams and communicate professionally
---
We offer:
team-oriented cooperation in a committed, international and appreciative team
a friendly and collegial environment
---
Further information:
The employment is as a student/scientific assistant and is based on § 6 Wissenschaftszeitvertragsgesetz (WissZeitVG).
The hourly rate is € 12.10 (SHK), € 14.00 (WHB) if the advertised requirements are met.
---
Contact for further information:
Dr. Martin Radermacher, Phone: +49 234 32 24697
Susanne Göhre, Phone: +49 234 32 28272
Click here for the job advertisement on the RUB job portal: https://jobs.ruhr-uni-bochum.de/jobposting/375c4cfd44349f4a930e5e3c5dbcf1dea8b2bcf70?ref=homepage