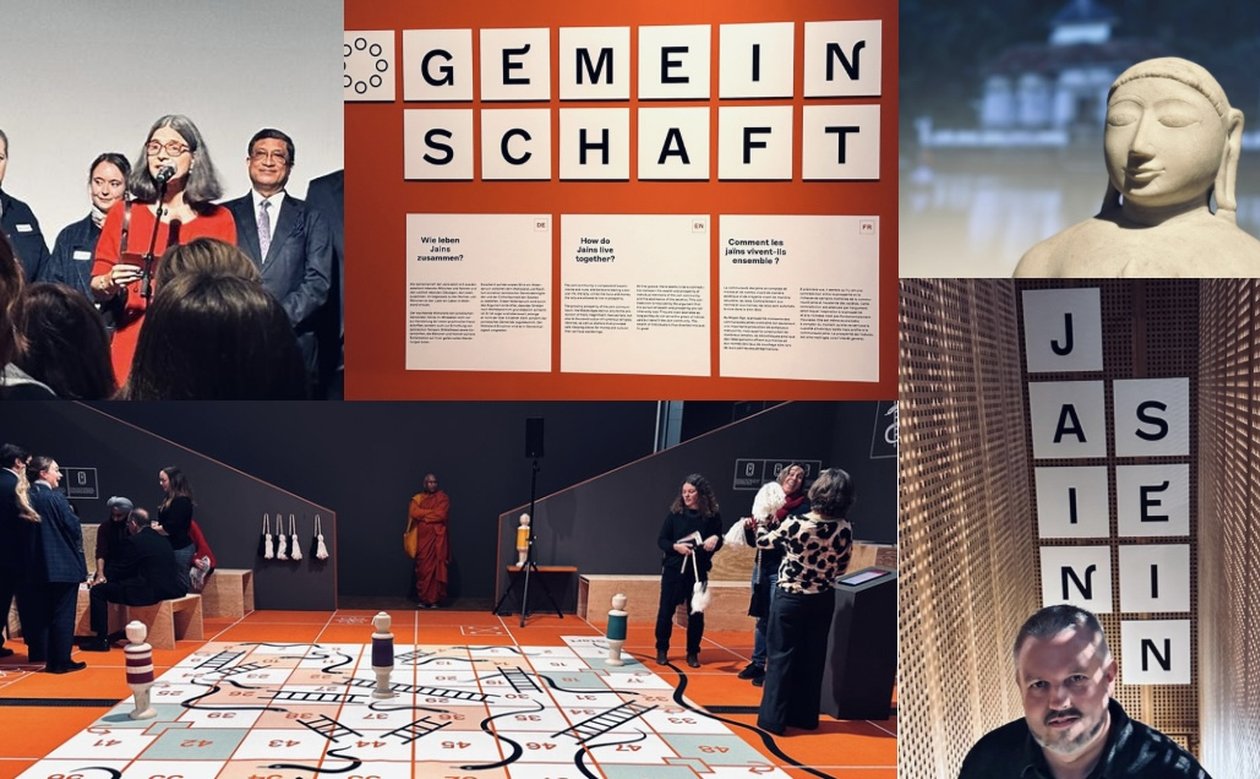 Jainism exhibition launched in Zurich
Barely any religion formulates ethical values more consistently than Jainism. It deals with issues that also concern us: From climate change, violence, wars and growing social inequality, we want to move towards more sustainability, tolerance, peace and social justice.
In close cooperation with the scientist Dr. Patrick Krüger from CERES, the Swiss Museum Rietberg conceived an exhibition that aims to provide interesting suggestions for dealing with the global problems of our humanity. The exhibition "Being a Jain - Art and Life of an Indian Religion" is based on the latest findings in the history of art and religion and at the same time presents results from field research as well as interviews with practicing Jains from all over the world. It builds a bridge between history and the present.
The Jainas' view of the world, as presented in the exhibition, was already well received at the opening ceremony on November 17: After the address by director Dr. Annette Bhagwati, the Indian ambassador Sanjay Bhattacharyya and exhibition director and curator Dr. Johannes Beltz welcomed the visitors. After further short statements of the curators Marion Frenger (editorial office and translation) and Harsha Vinay (project manager India) as well as the exhibition assistant Michaela Blaser and a note on the exhibition architecture and design by the graphic designer Rüdiger Schlömer (visual communication and graphics of the Museum Rietberg) all guests were then invited to a common first tour.
Dr. Patrick Krüger, curator and scientific director of the exhibition as well as scientist at CERES in Bochum, introduced the concept of the exhibition at the opening and was available for questions during the tour.
The interactive knowledge game "And you? The Game of Questions" already generated enthusiasm among visitors during the first tour. The game encourages visitors to change their perspectives and venture down new paths. It is based on the game "Gyan Chaupar", which was a teaching aid for various religious groups in India in the early 19th century.
Among other things, the exhibition features an early stone relief - one of the highlights of the exhibition (picture right, 2nd from top). This votive tablet, made of sandstone, is considered one of the oldest objects of Jainism and is on loan from the State Museum, Lucknow in India.
The main exhibition takes place in the Park Villa Rieter with "Being Jina: The Kalpasutra" its continuation and completion. Here the legends of Jina Mahavira and Jainist saints are told through pictures, stories and a film animation.
Visitors can experience a total of around 200 works of art, 5 films and the life-size knowledge game in Zurich. The exhibition will be on display at Museum Rietberg until April 30, 2023 (address: Gablerstrasse 15, 8002 Zurich; opening hours Tuesday through Sunday 10 a.m.-5 p.m., Wednesday 10 a.m.-8 p.m.).