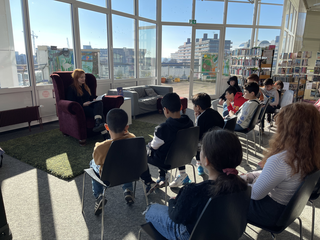 Today, Wednesday, 01 March, the first children's book reading as part of the Year of Science 2023 took place at 10 am in the Querenburg District Library. Pupils of the 4th grade listened to the stories from the CERES children's book "How the Stars Came to Heaven", asked questions and gave answers about their own religions they (co-)experience at home.
In bright sunshine, Sarah Rautert and Dr. Licia Di Giacinto read together the stories of Dina, Mika and Papa and about how, according to Daoism, the world was created in China. Cooperation partner Thorsten Eilks from the district library at the Uni-Center in Querenburg was also pleased with the young visitors.
In the coming weeks, more classes are expected to attend children's book readings. The readings will take place on Wednesdays from 10-11 a.m. each day. The library accepts requests for school classes at the e-mail address BuechereiQuerenburg@bochum.de.