CERES Palais, room "Ruhrpott" (4.13)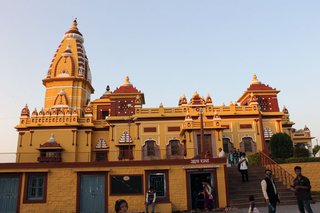 Guest lecture presented by Agnieszka Staszczyk (Krakow)
The presentation focuses on the main architectural forms and decoration themes chosen by creators of Birla Mandirs, constructed between 1930s and 1990s. The research is based on fieldwork studies from the past four years. The project team and the presenter of the lecture visited 19 temples altogether, classified into two main groups:
the older one founded in order to support the idea of building the Hindu national temple (Hindu Rashtra Mandir)
the younger one designed using traditional architectural languages.
In the first group the main architect responsible for the form was Sris Chandra Chatterjee, one of the most important designers of the pre-independence period, founder of Modern Indian Architectural Movement and one of the main theoreticians discussing the shape of new Indian art, as well as possible sources of the revival. In the second group, the famous Sompura master builders were mostly employed as the main constructors, therefore the character of temples changes. Their forms are often inspired by ancient monuments designed in regional styles of North and Central India. So changes the message and function of temples. This may be mainly observed in the diverse decoration consisting of inscribed panels, paintings, reliefs, sculptures and stained-glass windows. In the first group they are concentrated on conveying the message of the inclusive Hindu primordial tradition to which belong also Buddhists, Jains and Sikhs. It shall be emphasized that: the selection of illustrated figures and themes is inspired by teachings of important gurus and reformers, among them Vivekananda, Swami Shraddhananda or Malaviya; its main aim is to present key symbols of the common Indian nation - future citizens of the new independent state, and to build the national identity; authors of the iconographic programmes deliberately change elements of the Aryan heritage to fit them to the modern picture.
Thus, although they claim that the main idea behind the project is to restore old tradition, in fact we may assume it being the idea of constructing it. The other group to some extent continues this message, but also quotes some flagship motives of the Hindu temple tradition (used mainly as the outside wall decoration), and last but not least opens to the non-Indian traditions introducing the eminent figures of Christianity, Judaism and Confucianism.