CERES Palais, room "Ruhrpott" (4.13)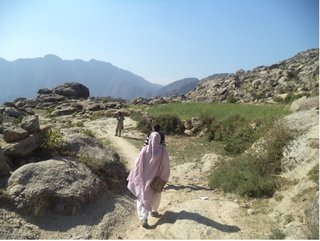 This talk presents the results of Fozia Naz's doctoral research project on the archeology of Malakand, a district of the Pakistani province of Khyber-Pakhtunkhwa. The painted rock shelters and remains of Buddhist settlements, Hindu temples and mountain passes all testify of the rich past of the district of Malakand in the Northwest of Pakistan. The survey and documentation of rock art, Buddhist stupas, Hindu Shahi watchtowers, and Muslim shrines that Fozia Naz carried out during her doctoral enabled her to reconstruct the cultural profile of this significant region in the northwest of Pakistan. Her analysis of Pre-Buddhist, Buddhist, Hindu Shahi and Muslim demonstrates that this region was a major hub of civilizations and an important center for religious activities.
---
Fozia Naz: Archaeologist, researcher
Fozia Naz is a young archaeologist from Pakistan currently based in London. She did completed her postgraduate studies as well as her PhD (2021) at the Taxila Institute of Asian Civilizations, Quaid-e-Azam University, Islamabad, Pakistan. In 2015, she was selected in Khyber Pakhtunkhwa province among 30 young "Emerging Women Leaders" from the four provinces of Pakistan and is a "Ms. Tawakkol Abdel-Salam Karman, Honorable Noble Peace Laureate », an award granted by the Institute of Peace and Diplomatic Studies (IPD) in collaboration with Hanns-Seidel-Foundation.
---
Zoom-Link for the session, if you do not participate in presence:
Guest Lecture by Fozia Naz
Time: 26.Okt. 2022 06:00 PM Amsterdam, Berlin, Rom, Stockholm, Wien
Joining Zoom-Session:
https://ruhr-uni-bochum.zoom.us/j/69173952658?pwd=Y3hWMzJteDE1SWEvRjdyOHkyM3k1UT09
Meeting-ID: 691 7395 2658
Password: 713711
Quick dial mobile:
+496950500951,,69173952658#,,#,713711# Deutschland
+496950500952,,69173952658#,,#,713711# Deutschland
Dialing in according to current location
+49 69 5050 0951 Deutschland
+49 69 5050 0952 Deutschland
+49 695 050 2596 Deutschland
+49 69 7104 9922 Deutschland
+49 69 3807 9883 Deutschland
+49 69 3807 9884 Deutschland
Meeting-ID: 691 7395 2658
Password: 713711
Search area code: https://ruhr-uni-bochum.zoom.us/u/cLfegauSu

Join via Skype for Business:
https://ruhr-uni-bochum.zoom.us/skype/69173952658