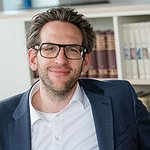 Managing Director, Science & Research
Dr. Tim Karis studied Communication Sciences (Media Studies), Modern History and Public Law in Münster and Amsterdam. At the Münster Cluster of Excellence "Religion and Politics" he wrote his PhD-thesis on media portrayals of Islam on the German TV-news-magazine "Tagesthemen" (Springer VS, 2013). His other publications include papers on discourse theory, particularly focusing the relationship of discourse and mass media. As a postdoc, he worked as a coordinator of the research group "Religious Pluralism as a Challenge for Religions and Societies", which is situated at the Center for Islamic Theology in Münster. In his most recent research project, he focuses on the ways religious pluralism can be a challenge for particular aspects of media regulation. For example, there have been debates in Germany about whether or not to give air time on public broadcasting stations to Islamic communities – a privilege hithero reserved for Christian and Jewish groups. This project will compare the regulatory situation as well as related debates in Germany, the Netherlands and the U.K.
Since April 2015, he is a Postdoch for he field of "Religion & Media" at the Käte-Hamburger-Kolleg.
Areas of Research
Religion and mass media, Research Field 'Religion, Media, and Culture', Media Regulation, Sociology of Religion, Discourse Theory
2016
Karis, Tim. 2016a. Religious diversity as a media regulation issue: the changing frameworks in German and Dutch public broadcasting regulation. In: Diversity in transcultural and international communication, 69–90.
---. 2016b. Breaking news: der 11. September 2001 als Zäsur für den Journalismus und das mediale Islambild in Deutschland? In: Zeitenwende 9/11?:  eine transatlantische Bilanz, 289–315.
2014
Karis, Tim. 2014. Television, islam, and the invisible: narratives on terrorism and immigration. In: How television shapes our worldview: media representations of social trends and change, 47–66.
2013
2012
Karis, Tim. 2012a. Massenmediale Eigenlogiken als diskursive Machtstrukturen: oder: Ich lasse mir von einem kaputten Fernseher nicht vorschreiben, wann ich ins Bett zu gehen habe! In: Mediendiskursanalyse: Diskurse - Dispositive - Medien - Macht, 47–74.
---. 2012b. Postmodernes Feindbild und aufgeklärte Islamophobie?: Grenzen der Analysekategorie "Feindbild" in der Islambildforschung. In: Von Ketzern und Terroristen: interdisziplinäre Studien zur Konstruktion und Rezeption von Feindbildern, 173–190.
2010
---. 2010b. Identität durch neue Medien?: Pluralisierung der Identitätsangebote. In: Kollektive Identitäten im Nahen und Mittleren Osten: Studien zum Verhältnis von Staat und Religion, 233–252.
2008
Karis, Tim. 2008. "Autobahn geht nicht!": Medienmacht und die Frage "Was ist sagbar?" 360° : das studentische Journal für Politik und Gesellschaft [3.], Nr. 1: 37–46.
2007
Karis, Tim und Jörg Wischinski. 2007. Einführung. In: Verbotene Filme, 27–54.