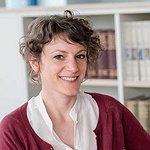 Junior Professor South Asian History of Religion;
KHK Research Associate (Research Field 2)
Since January 2016, Jessie Pons has been a Professor for South Asian History of Religions. She was a KHK Visiting Research Fellow (2013-2014) and a postdoctoral researcher within CERES (2010-2012) working on the project 'Dynamics of Text Corpora and Image Programs: Representations of Buddhist Narratives Along the Silk Road' which was funded by Mercator Foundation. She studied history of art, archaeology, Indian studies and museum studies at SOAS (University of London), École du Louvre, and the University of Paris. She received several grants from the Sorbonne (2006-2009) and a stipend from the Tokyo Ancient Orient Museum in 2007.
Her research focuses on Buddhist art with special attention to the representation of Buddhist narratives in Gandhara, in oases of the Silk Road and in the Indian Sub-continent. Her KHK project 'The Circulation of Divinities: Modes of Borrowing in the Depiction of Pantheons' investigates the role of inter-religious encounter in the construction of early Buddhist and Brahmanic iconography in South Asia.
Education
Ph.D., History of Art, University of Paris 4, Paris Sorbonne, Paris, France 2011
B.A., Indian Studies, University of Paris 3, Sorbonne Nouvelle, Paris, France 2009
M.Phil., History of Art, University of Paris 4, Paris Sorbonne, Paris, France 2006
M.A., Museum Studies, Louvre School, Paris, France 2005
M.A., Archeology, University of Paris 1, Panthéon Sorbonne, Paris, France 2004
B.A., History of Art, Louvre School, Paris, France 2003
B.A. History of Art and Archeology, School of Oriental and African Studies (SOAS), London, UK 2002
Office Hours
Areas of Research
Early South Asian art, Buddhist Art from Gandhara, Buddhist narratives on the Silk Road
Not Found
The requested URL was not found on the server. If you entered the URL manually please check your spelling and try again.