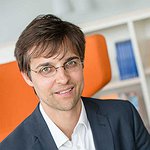 Dean of Students; Coordinator of Religious Studies at the Ruhr-University Bochum, Center for Religious Studies (CERES), Chair for the Study of Religions / Käte Hamburger Kolleg "Dynamics in the History of Religions"
Office Hours
Areas of Research
Sociology of Religion, Religion and the Economy, Ethnology of Religion, Religion in Modernity, Religious History, Church Sociology, Fundamentalism
2017
Elwert, Frederik, Martin Radermacher und Jens Schlamelcher. 2017a. Einleitung. In: Handbuch Evangelikalismus, 11–20.
---, Hrsg. 2017b. Handbuch Evangelikalismus. Religionswissenschaft. Bd. 5. Bielefeld: transcript.
Schlamelcher, Jens. 2017a. The study of autobiographies in religious studies. In: Handbook Autobiography/Autofiction.
---. 2017b. Kirche in der Gesellschaft: Versuch einer Verhältnisbestimmung auf Grundlage der Unterscheidung von Kirche und Sekte nach Max Weber und Ernst Troeltsch. In: Die soziale Reichweite von Religion und Kirche: Beiträge zu einer Debatte in Theologie und Soziologie, 231–248.
---. 2017c. Sozialgestalten im evangelikalen Spektrum. In: Handbuch Evangelikalismus, 243–260.
---. 2017d. Evangelikalismus und Wirtschaft. In: Handbuch Evangelikalismus, 289–304.
2016
Schlamelcher, Jens. 2016. Religiöse Organisationen. In: Handbuch Religionssoziologie.
2015
Schlamelcher, Jens. 2015. Der Zeitraum seit 1989. In: 20. Jahrhundert - Epochen und Themen, 245–269.
2014
Neumaier, Anna und Jens Schlamelcher. 2014. Religiöse Vergemeinschaftung im Prozess der Vergesellschaftung. In: Sozialformen der Religionen im Wandel, 19–51.
Schlamelcher, Jens. 2014. "Und was hat sich in der Gemeinde so alles verändert?": die Auswirkungen der gegenwärtigen Restrukturierungsprorgamme auf die Sozialgestalt einer Ruhrgebietsgemeinde. In: Unterwegs im Experiment: protestantische Transformationen im Ruhrgebiet, 109–125.
2013
---. 2013b. Typen religiöser Sozialformen und ihre Bedeutung für die Analyse religiösen Wandels in Deutschland. In: Religion und Gesellschaft, 51–71.
Schlamelcher, Jens. 2013a. Teorias econômicas no estudo da religião. In: Compêndio de ciência da religião, 257–274.
---. 2013c. The decline of the parishes and the rise of city churches: the German evangelical church in the age of neoliberalism. In: Religion in the neoliberal age: political economy and modes of governance, 53–68.
---. 2013d. Ökonomisierung der protestantischen Kirche?: sozialgestaltliche und religiöse Wandlungsprozesse im Zeitalter des Neoliberalismus. Religion in der Gesellschaft. Bd. 36. Würzburg: Ergon-Verl.
2012
2011
2010
Schlamelcher, Jens. 2010. Kirchliche Vergemeinschaftungsformen im Prozess der Vergesellschaftung. Evangelische Theologie 70, Nr. 6: 439–450.
2009
Schlamelcher, Jens. 2009a. Frey, Rebecca Joyce: Fundamentalism. Theologische Literaturzeitung 134, Nr. 1: 21–23.
---. 2009b. Unternehmen Kirche?: Neoliberale Diskurse in den deutschen Großkirchen. In: Der neoliberale Markt-Diskurs: Ursprünge, Geschichte, Wirkungen, 213–256.
2008
Schlamelcher, Jens. 2008. Ökonomisierung der Kirchen? In: Paradoxien kirchlicher Organisation: Niklas Luhmanns frühe Kirchensoziologie und die aktuelle Reform der evangelischen Kirche, 145–178.