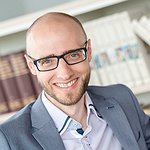 Digital Humanities coordinator, Center for Religious Studies
Areas of Research
Digital Humanities, Sociology of Religion, Religion and Migration, Network Research
Frederik Elwert studied religion and sociology in Bremen and Leipzig. He got his PhD from Ruhr-University Bochum in 2014.
2017
Elwert, Frederik und Martin Radermacher. 2017. Evangelikalismus in Europa. In: Handbuch Evangelikalismus, 173–188.
Elwert, Frederik, Martin Radermacher und Jens Schlamelcher. 2017a. Einleitung. In: Handbuch Evangelikalismus, 11–20.
---, Hrsg. 2017b. Handbuch Evangelikalismus. Religionswissenschaft. Bd. 5. Bielefeld: transcript.
Pfahler, Lukas, Katharina Morik, Frederik Elwert, Samira Tabti und Volkhard Krech. 2017. Learning low-rank document embeddings with weighted nuclear norm regularization. In:
The 4th IEEE International Conference on Data Science and Advanced Analytics: 19-21 Oct 2017, Tokyo, Japan
, 21–29.
doi:10.1109/dsaa.2017.46,
https://doi.org/10.1109/dsaa.2017.46
.
2016
Elwert, Frederik. 2016a. Network analysis between distant reading and close reading. In:
Proceedings of the Third Conference on Digital Humanities in Luxembourg with a Special Focus on Reading Historical Sources in the Digital Age
.
http://ceur-ws.org/Vol-1681/Elwert_Network_analysis.pdf
.
2015
Elwert, Frederik, Sven Sellmer, Sven Wortmann, Manuel Pachurka, Jürgen Knauth und David Alfter. 2015. Toiling with the Pāli canon. In: Proceedings of the Workshop on Corpus-Based Research in the Humanities: 10 December 2015 Warsaw, Poland, 39–48.
2014
Elwert, Frederik. 2014. Evangelikale Gemeinden russlanddeutscher Aussiedler. Glaube in der 2. Welt 42, Nr. 9: 19–21.
Hofmann, Beate und Frederik Elwert. 2014. Heka und Maat: Netzwerkanalyse als Instrument ägyptologischer Bedeutungsanalyse. In: "Vom Leben umfangen": Ägypten, das Alte Testament und das Gespräch der Religionen, 235–245.
2013
Elwert, Frederik. 2013. Religionsgemeinschaften als Integrationsagenten: Russlanddeutsche Gemeinden zwischen Binnenorientierung und Außenwirkung. In: Diesseits der Parallelgesellschaft: neuere Studien zu religiösen Migrantengemeinden in Deutschland, 97–120.
2012
Elwert, Frederik. 2012a. Von ethnischer Identität zu religiöser Identität?: Identifikative Bezüge russlanddeutscher Aussiedler. In: Tradierungsprozesse im Wandel der Moderne: Religion und Familie im Spannungsfeld von Konfessionalität und Pluralisierung, 245–263.
---. 2012b. Integration und Abgrenzung: Russlanddeutsche Pfingstler und die Konsequenzen religiöser Vergemeinschaftung. In: Religiöse Gegenwartskultur: Zwischen Integration und Abgrenzung, 157–172.
2011
Elwert, Annika und Frederik Elwert. 2011. Qualifikation, Entwertung, Diskriminierung: zur Arbeitsmarktintegration von Migranten aus dem subsaharischen Afrika und ihrer Erkärung. In: Potenziale der Migration zwischen Afrika und Deutschland, 91–126.
2010
Elwert, Frederik. 2010. Intime Feinde: Muslimische Islamkritiker und die Integrationsdebatte. In: Die Rolle der Religion im Integrationsprozess: Die deutsche Islamdebatte, 2:159–171.
2007
None