Dr. Benedikt Peschl is no longer a member of CERES. The information given on this page may therefore be outdated.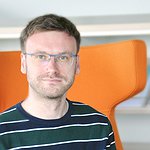 Benedikt Peschl's main research interests concern the philology of Old and Middle Iranian languages, with a focus in the field of Zoroastrian Studies. In the context of the DFG-funded project "The Development of Aspect in Middle Persian", he currently examines how devices for marking the grammatical category of aspect are employed in the Middle Persian ("Pahlavi") translation of the Avesta and in the glosses and commentaries that have become incorporated into this translation.
Areas of Research
Philology and linguistics of Old and Middle Iranian languages.
Zoroastrian Studies
Pre-modern history of ideas and religions in Iran and Central Asia
Historical / Indo-European linguistics
Rigveda, Vedic Sanskrit
Education
BA General and Indo-European Linguistics, with minor "Antike und Orient" (2013, University of Munich)
MA Religions of Asia and Africa (2015, SOAS University of London)
PhD Study of Religions (2021, SOAS University of London)
PhD
My PhD project ("The first three hymns of the Ahunauuaitī Gāϑā: The Avestan text of Yasna 28–30 and its tradition") aimed at establishing a methodology for editing texts in Old Avestan language in the context of a large-scale re-edition of the Zoroastrian Yasna liturgy (Multimedia Yasna Project, SOAS London).
Based on the edition of three chapters of the liturgy, I examined aspects of their past and contemporary ritual setting and of their reception history in the Zoroastrian exegetical tradition.
Scholarships and funding
2012–2015 Max-Weber-Programm Bayern
2017–2018 DAAD Jahresstipendium für Doktorandinnen und Doktoranden
2017–2020 PhD scholarship provided by the European Research Council through the Multimedia Yasna Project, SOAS University of London
Previous appointment
Research associate (Wissenschaftlicher Mitarbeiter) at the Department of Historical and Indo-European Linguistics at the University of Munich (2015–2017)
Selected conference presentations
"Yasna 28.11, Yašt 1.26 and the Warštmānsar Nask: untangling an intertextual network in the Zoroastrian textual tradition" (9th European Conference of Iranian Studies, Berlin, September 9–13, 2019)
"Umlaut im sogdischen Verbalsystem" (33. Deutscher Orientalistentag, Jena, September 18–22, 2017)
"Baγān ud yazdān: words for 'god' in Parthian" (9th International Conference of the International Association of Manichaean Studies, Torino, September 11–15, 2017)
"Simple thematic presents with root vowel ā in Avestan: textual corruption, genuine Avestan innovation or PIE archaism?" (Corpus Avesticum Meeting, Berlin, March 23–24, 2017)
"Root Semantics and Stative Present Perfects in Vedic" (15. Conference of the Society for Indo-European Studies, Vienna, September 13–16, 2016)
Invited talks
"Avesta quotations in an old Pahlavi manuscript (M 51) and the role of the learned priesthood in medieval Zoroastrianism" (Webinar on Iranian Studies, Department of Ancient Culture and Languages, University of Tehran, January 21, 2021)
"Zu den Reflexen uriranischer Präsentien des Typs R(ā)-aya- im Sogdischen" (University of Cologne, April 20, 2018)
"Avestisch als Sprache der zoroastrischen Liturgie" (University of Cologne, April 19, 2018)
"The Pahlavi Version of the Gāthās" (Annual Seminar of the World Zoroastrian Organisation, London, June 17, 2018)