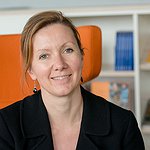 Research Associate ArmEn 2020-2025
Research Associate JewsEast 2015-2020
Barbara Roggema is a specialist in interreligious encounters in the Islamicate world. She studied Arabic and Syriac in Groningen, Oxford, Birmingham and Cairo. After receiving her PhD she worked at different university and research projects as for example in the ERC project 'Defining Belief and Identities in the Eastern Mediterranean: The Role of Interreligious Debate and Interaction' at King's College London.
Since 2015 she has been a research associatge at the Center for Religious Studies, where she worked on Jewish-Christian encounters in the Islamicate world, within the framework of the ERC-project "JewsEast: Jews and Christians in the East: Strategies of Interaction between the Mediterranean and the Indian Ocean". Starting in fall 2020 she is a research associate in the ERC-project 'Armenia Entangled'. Her recent publications include the edited volume Patristic Literature in Arabic Translations (with Alexander Treiger, Brill, 2019).

Office Hours