Doing a PhD step by step
CERES offers young researchers the opportunity to do a doctorate in a broad range of subjects related to religion. This is characterized above all by a combination of methodological and material religious studies as well as multidisciplinary research. Research at CERES ranges from religious studies, philosophy, and sociology to various regionally focused subjects such as Sinology, Indology, Central Asian Studies, Iranian Studies, and Ancient Oriental Studies, as well as Judeo-Christian religious history.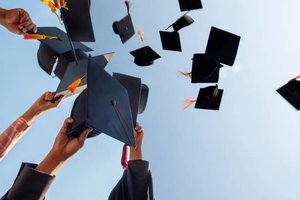 In addition to individual doctoral projects, CERES also offers a structured doctoral program within the CRC 1475 "Metaphors of Religion: Religious Meaning-Making in Language Use". The CRC combines research in religious studies, philology, and linguistics on the significance of metaphors for religious meaning-making. The integrated graduate school "Metaphors of Religion (GSMR)" offers a structured qualification program for the promotion of young researchers within the Collaborative Research Centre in cooperation with the RUB Research School.
Below, please find a brief overview of the application procedure at CERES.
Admission requirements and selection procedure at CERES
To be eligible for a doctoral degree at CERES on a religion-related topic, you must hold a graduate degree (Master of Arts or similar) in a respective field and have a supervisor. Your supervisor at CERES may be a professor, an assistant or associate professor, or a habilitated faculty member, pro-vided he or she is qualified in the subject area relevant to your research.
The basis for a doctorate is the valid doctoral regulations of the Faculty of Philology for the subject Religious Studies. Please note that the doctoral regulations of September 7, 2021 are valid with immediate effect.
Please note: Our PhD program focuses on research and no further coursework is required. Further, no tuition or fees are demanded by CERES for the PhD program. However, personal costs must be covered by the PhD student. CERES does not provide regular funding for PhD studies. Candidates should inquire about funding opportunities.
The application process and internal selection procedure at CERES consists of the following three steps.
Step 1
For your PhD application and to get in touch with us, please fill out this form and send it to maren.jordan@rub.de as a PDF file and together with a short CV.
Step 2
If your PhD inquiry is met with interest and you fulfill the basic requirements for doctoral study, we invite you to send us a strong research exposé of your doctoral project. Your exposé should be five to six pages (approximately 2000 words) and clearly address a question in religious studies.
Step 3
In case of a successful review of your exposé, we will invite you to a personal (online) interview. Afterwards, our internal PhD committee will decide on the acceptance and supervision of your PhD topic. Please note: Acceptance at CERES does not mean that you are admitted as a doctoral candidate at Ruhr-Uni Bochum yet!
Admission & enrollment as doctoral student at Ruhr-University- Bochum
After your doctoral proposal has been successfully accepted at CERES, you must enroll at Ruhr-Universität Bochum. For the enrollment process, you first need a confirmation from the Faculty of Philology at Ruhr-Universität Bochum to be registered as PhD candidate. Only after the official acceptance as PhD student at the Faculty of Philology can you enroll at Ruhr-Universität and the RUB Research School. We strongly encourage all our PhD students to participate in the RUB Research School.
A detailed overview of the formal steps of the doctoral procedure, from enrollment to obtaining the doctoral degree (Dr. phil.), can be found on the website of the Department of Philology (currently in German only). We will be happy to assist you with these administrative steps.
The complete information and legal basis for the doctoral procedure can be found in the current doctoral regulations (German: Promotionsordnung) of the Department of Philology.